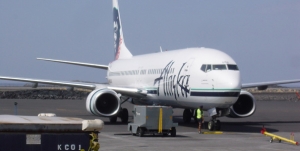 If you are traveling from the Bay Area to Kona, be sure to check the new Alaska Airlines service from Oakland and San Jose.  A lot of people are used to flying  other airlines to Hawaii, and may not think of Alaska Airlines as an option. But twice this year I have found the best deals for round trips from Oakland to Kona on Alaska.
Even nicer are the flight times. You can avoid the dreaded (by some at least) late evening departure and red-eye flight back from Hawaii. Alaska's return flights to Oakland and San Jose leave at the civilized hour of 11:15 AM.
It's nice to see airlines adding new Hawaii routes, since the trend for the past couple years has been more the opposite. Getting to the Big Island from the West Coast became more complicated and more expensive when Aloha Airlines folded abruptly March 2008.
Alaska Airlines began regular flights to Kona from Oakland last fall, and added the direct San Jose – Kona service in March 2010. Seasonal flights from Portland to Kona will be added beginning November 12, 2010, and last through April 2011. Alaska also has also announced plans to increase its Seattle-Kona service later this year.
The airline has added other new Hawaii routes as well, including new daily flights from Sacramento to Maui, and a San Diego to Maui service beginning in October.
A one-way rate of $199 for OAK-KOA is still being offered through early June. Then prices go up a bit for the busier summer months, and back down to $228 by late August.  If you are looking for the lowest rates, be sure to use the alaskaairlines.com "low fare calendar" feature.
Bay Area travelers should particularly note Alaska's offsetting weekly schedule for discount fares:  The lowest rates for Oakland – Kona are on Tuesdays and Thursday, and for San Jose – Kona on Mondays and Wednesdays.
While travel to Hawaii seems to be on the upswing, it's still a renter's market.  Our Kanaloa condo has been staying booked with specials from $107/night, and we are offering our lowest summer rates since we began doing vacation rentals in 2001. The calendar is starting to fill in, so book your trip now!