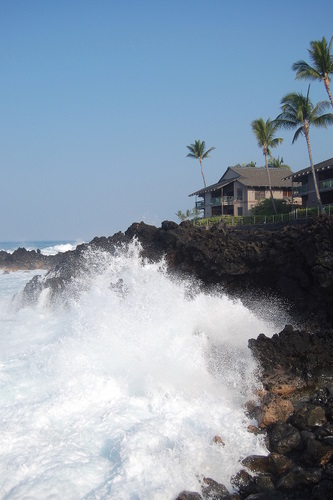 I was in Kona recently doing some work on the condo, which was in need of a bit of freshening. At the same time I realized that the kona1.com site could perhaps use a new look as well–the old yellow and blue theme was starting to look a bit dated. All it took was a new WordPress theme, a little tweaking of pages and files, and here it is, the fresh new face of Kanaloa at Kona vacation rentals.
Speaking of my Kona visit, the surf was high and I had fun photographing the spectacle of big waves crashing on the rocks in front of Kanaloa and over at the Shereaton. Got distracted at one point and as a result got pretty drenched by spray from a monster wave that kicked up high over my head!
With a block of open days due to a late cancellation, and a full schedule looming including guests soon to arrive for a four-week stay, I wanted to take the opportunity to make a few improvements. I got through most of the task on my list, including replacing a broken window blind, some painting and refinishing, and putting in new faucets in the master bathroom.
The TV in the living room was fine but old, I put in a new flatscreen which is nicer. Added a small ipod-compatible stereo and moved the old one to the master bedroom. I discovered some of the cookware was looking a little worse for wear, so there is now a nice new set of pots and frying pans, and various other new/updated kitchen items.
Also I finally put in a wireless router so there is now a WiFi network specifically for Kanaloa 1002 and accessible throughout the unit, including the lanai.
It had been too long since I visited Kanaloa, and it was nice to be reminded again what a special place it is. I was delighted to see how nice everything is looking with all the resort-wide painting and repairs now complete. The gardens and landscaping were looking as fresh and beautiful as ever, everything well tended-to and lots flowers in bloom.
For that trip I took advantage of the new Alaska Airlines service from Oakland to Kona, which seems to be the best bargain around right now for getting to Hawaii from northern California. On the right dates seats have been available in the $375 range round-trip.
With a short amount of time and lots of work to do I didn't have much time to relax and enjoy, except for my photography excursions. Looking forward to a return trip in March where fun will be on the top of the agenda.
Aloha all and enjoy the new site–and check out the Kanaloa slideshow!