April 10, 2008. On Tuesday a reversal of the normal tradewind pattern brought a cloud of volcanic gas ("vog" = volcanic smog) into portions of Hawaii Volcanoes National Park normally open to visitors. The Park was quickly shut down, and some two thousand visitors were quickly ushered out of the area. The Park remained closed on Wednesday, as did a school in the nearby town of Volcano.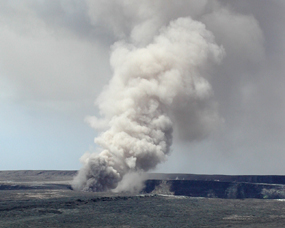 A new vent in Halema'uma'u crater on Hawaii's Kilauea volcano has been releasing clouds of sulfur dioxide-laden gas steadily since a sudden outburst of activity on March 19. Not killer really, but not healthy either!
Prevailing winds typically direct the gas plume south across closed areas of the park and out to sea. A park service air quality monitor shows that by Thursday morning the normal pattern has resumed, but no word yet on whether the park will reopen to visitors today.
Check Park Service announcements for the latest information, and here's a brief story posted today on National Geographic News.
Changing topics completely, I just received word that guests booked to stay in my Kanaloa at Kona condo June 26 – July 3 have had to cancel, so that week is now again open. I also still have some discounted dates open in late April and May. Right now between spring break and summer vacation is a nice time to visit Kailua-Kona, and some decent fares are still available from the West Coast.